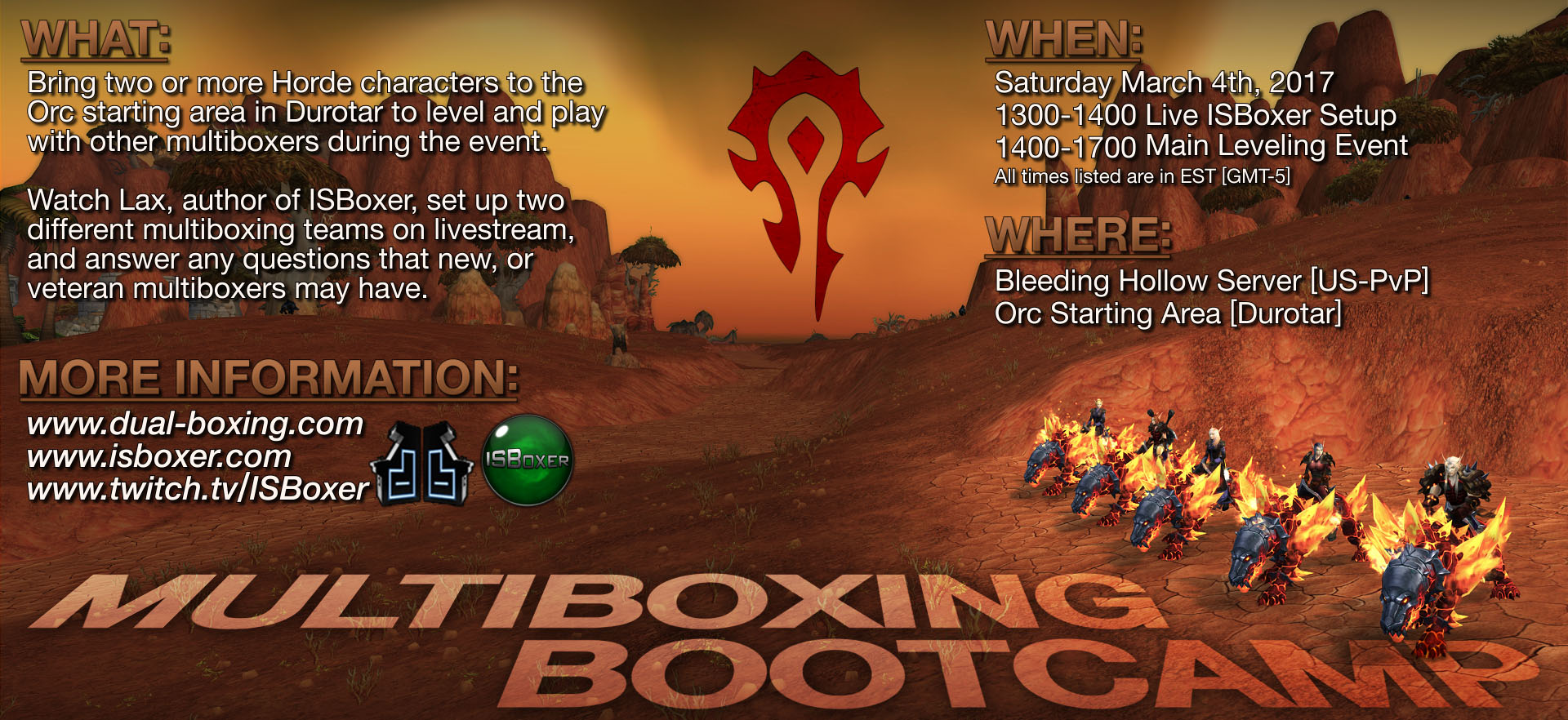 Dual-Boxing.com invites you to
join us for a World of Warcraft newbie multiboxing team leveling event
on Saturday March 4, 2017, from 1PM to 5PM EST (GMT-5).
For those of you who watched or participated in the first event (On Feb 18 we did Alliance on the Sargeras server), we're going to do more or less the same thing this time around,
for the Horde!
Getting Started Workshop
Kicking off the event, from
1PM to 2PM EST (GMT-5), I will be streaming a 1 hour "Getting Started" workshop
where
I will create a couple of WoW teams and configure ISBoxer accordingly
. For the workshop I will be creating a 1-class team with standard configuration, and a mixed class team with Pro configuration. During this time
I'll be on Discord along with members of my team to answer questions
and make sure others can follow along and prepare for the in-game event! If you do have questions during the event, please feel free to ask and we can cover things in more detail as needed.
Join us on Twitch
https://www.twitch.tv/ISBoxer
and Discord
https://discord.gg/Zp5yXzC
for the Workshop!
In-game Multiboxing Boot Camp Event Details
Everyone should join the in-game chat channel:
/join MultiboxingBootCamp
Join us on Discord if you like:
https://discord.gg/Zp5yXzC
And I'll still be streaming on Twitch:
https://www.twitch.tv/ISBoxer
Server:
Bleeding Hollow
(US PVP)
Location:
Orc starting area
For the in-game event
we will be creating level 1 Horde characters on Bleeding Hollow
(US PVP). Participants should
bring 2 or more characters,
but please no more than 5 for this event -- let's keep it sane!
We will
meet at the Orc starting area outside of Orgrimmar at 2PM
. If you want to roll toons that do not start there please feel free to create them in advance and travel to the area so you don't miss out on the fun! As we experienced during the original event, we will expect the game's phasing system to hide some players sometimes, but we will likely all bump into each other as we progress, and it is fun to interact with other multiboxers as we play along.
We do have a guild called Multiboxer
on this server, just like the one on Sargeras, and staff will again be available for invites. Joining the guild is not required!
Come show off your lowbie multiboxing skills, or get help from others who know what to do! Spend a couple of hours meeting other multiboxers, playing around and preparing new teams for future community events! And seriously, feel free to join us on the Discord server for voice chat as well, we had a great time chatting at the last event (Big thanks to the people who joined in!), and there was a lot of sharing of tips and answering questions.
Souca will again be providing care packages, and mage portals will be available prior to the event.
The event ends after a few hours, but community is forever!
Dual-Boxing.com staff will also be on hand to award dual-boxing.com badges for participating
in the event! Find us at the event and send a message to confirm!
So... how many characters will
you
be bringing?